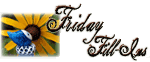 1. I love the feeling of waking up in the morning and my boys instantly give me a hug and kiss at the same time in the morning.
2. Seeing my husband right after work always brightens my day (he makes me miss him after a long day at work).
3. Dancing with the orchestra is what I will remember the most from 2012.
4. My favorite family recipe is chicken adobo.
5. When I want to spoil myself I have my card and go shopping.
6. Dr. House is my favorite TV show.
7. And as for the weekend, tonight I'm looking forward to browse and look for new cooking books, tomorrow my plans include nothing special lolz and Sunday, I want to treat my boys to the circus!